The Church of Scientology is officially recognized as a religion in Spain. On 31 October 2007, the National Court in Madrid issued a unanimous landmark decision affirming the right to religious freedom in Spain by recognizing that the National Church of Scientology of Spain is a religious organization entitled to the full panoply of religious rights that flow from entry in the government's Registry of Religious Entities.
This recognition marks the end of an era in which Spanish Scientologists were forced to fight for their rights to religious freedom. It vindicates the Church of Scientology in Spain and is a new beginning for all Spanish Scientologists.
Today there is no question of the legitimate status of Scientology as one of the world religions. Scientology is fully developed, by definition of religion, in its theology, religious practice and organization. The breadth and scope of the religion include thousands of Churches of Scientology, missions and related organizations in some 167 countries, all unified by a common religious goal and ministering to millions.

The National Court thoroughly examined the Church of Scientology formative documents, aims and purposes to unequivocally determine that the National Church of Scientology of Spain has the right to be registered as a religion under Spanish law. Specifically the National Court determined that the right of the Church of Scientology to register as a religious organization constitutes a manifestation of its right to religious freedom and its right to the collective practice of the Scientology religion.
In reaching this conclusion, the Court reaffirmed the principle "that the registration of a religious entity in the Registry implies, above all, the recognition of its legal status as a religious group, that is, the identification and admission in the Law of a group of people that intend to practice, with immunity from coercion, their fundamental right to the collective practice of religious freedom as it is established by Article 5.2 of the Spanish Religious Freedom Law."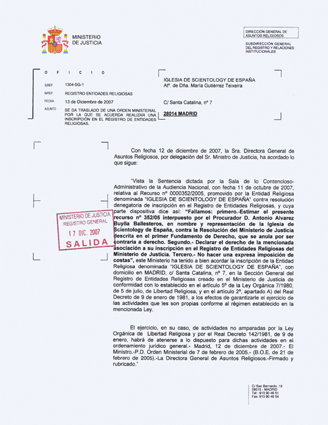 "This Ministry has determined to grant the registration of the Religious Entity denominated 'IGLESIA DE SCIENTOLOGY DE ESPANA'… in conformation with the law established in article 5 of the Organic Law 7/1980 of Religious Freedom, so as to guarantee the practice of their activities in conformation with the regulation established."
Churches of Scientology
in Spain