The Church of Scientology is officially recognized as a religion in Mexico. On October 30, 2017, Mexico's Minister of Interior entered the Church of Scientology of Mexico into the federal registry of recognized religions.
Established in 1975, the rapid growth of the Church in Mexico was greatly accelerated in 2010 with the opening of the first Ideal Church of Scientology Mexico on Juarez Boulevard in the historic center of Mexico City.
As national headquarters of the many Church-sponsored humanitarian programs, Church of Scientology Mexico works with civic and community leaders throughout the nation to bring help to millions of individuals looking for change in their personal lives and improvements in their communities.
In partnership with police, educators and local government leaders, Scientologists address key social ills of the country with powerful drug education and prevention and human rights programs. Scientology Volunteer Ministers provide relief in times of disaster and reach out with one-on-one help in communities throughout the country. These humanitarian initiatives reflect the religion's commitment to the spiritual well-being and welfare of the people of Mexico.
In acknowledgment of Scientology religion and in confirmation of the Church's execution of its religious mission in the country, the Minister of Interior, Undersecretary of Interior for Immigration and Religious Affairs and the Director General of Religious Associations of Mexico signed the Certificate of Constitutive Registration, officially granting full religious recognition to the Church of Scientology Mexico.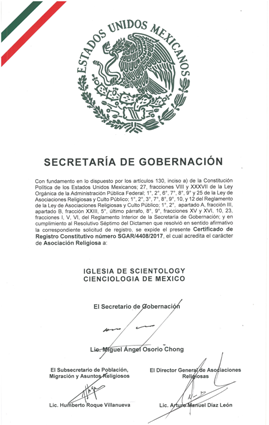 "This Certificate of Constitutive Registration… accredits the character of Religious Association to the Church of Scientology Mexico."